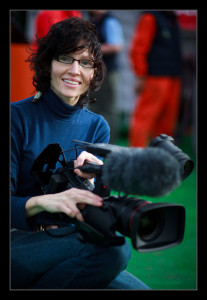 Dena Seidel is the founding director of the Rutgers Center for Digital Filmmaking in the Mason Gross School of the Arts at Rutgers University serving as director from 2011-2015. Under Seidel's creative direction, RCDF offered the first accredited film production programs at Rutgers university. Dena Seidel is an innovative educator, award winning documentary filmmaker, published short story author, and since joining Rutgers the creator/designer of Rutgers' first film production programs and most recently the architect of the university's first Bachelor of Fine Arts in Digital Filmmaking.
Seidel is one of the only university professors to produce research based feature length documentary films for national broadcast with her undergraduate students and is the first to introduce this concept of art to Rutgers. Seidel is the first university professor to direct a professional documentary office within a university film program and then use that learning model as the curricular basis for a newly approved and innovative, interdisciplinary Bachelors of Fine Arts degree program. Seidel is also the only university professor to direct a feature documentary for the National Science Foundation in Antarctica.
Seidel's academic research explores ways in which art students can connect to other bodies of knowledge within constructive learning environments. Seidel's interdisciplinary curriculum is dynamic, providing students with multiple motivational goals. The success of Seidel's programmatic model is supporting intersections between a variety of filmic art forms while providing opportunities for students to produce professional narrative films that are seen by large audiences. From data Seidel and her research colleagues collected evaluating how film students learn, Seidel has built a robust academic program to meet the art students' needs – providing both the underlying technical foundation and artistic training and exploration while supporting an interdisciplinary space for creative engagement.
Seidel's teaching philosophy is to encourage students to use the art of narrative filmmaking to engage with, and build upon, other bodies of knowledge. As a mentor, she seeks to empower her students as creative, broad thinking and technically proficient artists – willing to take risks shaping and expressing novel non-fiction narratives for the screen.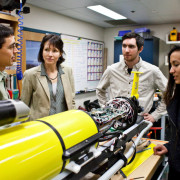 In parallel and over the prior four years, Dena also established the Rutgers Film Bureau, the university's professional documentary office housed in the Mason Gross School of the Arts. The Rutgers Film Bureau is designed such that students enrolled in the Mason Gross film production program participate, and are involved in, every level of film production. To do this, Dena has established creative and trusting partnerships with researchers across disciplines. See a short video of Seidel's Film Bureau students traveling the world to produce documentaries in collaboration with researchers.
In 2013, Dena returned from directing a 6 week documentary shoot in Antarctica with over 400 hours of footage that she then shaped into the award winning feature documentary Antarctic Edge: 70° South funded by the National Science Foundation and now streaming on Netflix. Other films she produced with her staff and students include Generation at Risk: Joining forces to Fight Childhood Obesity and The War After: From Combat to Campus.
Over the years, Dena has collaborated with departments across the university to produce dynamic documentary narratives featuring Rutgers faculty, students and research initiatives. In 2010, Dena and her students completed the feature length documentary Atlantic Crossing: A Robot's Daring Mission, which premiered at the Blue Ocean Film Festival and won 10 film festival awards including the Intercom Award for Best Science and Research Programming from the Chicago International Film Festival. Atlantic Crossing aired more than 400 times nationally on PBS.
View a video collection of student success in the Rutgers Center for Digital Filmmaking during Dena Seidel's directorship: https://vimeo.com/158372263.
As a filmmaker, Seidel explores the creative intersections between documentary, fiction and experimental filmmaking within a character driven narrative arc blending film languages and framing conventions to engage the audience on a journey. Seidel seeks innovative artistic expression through cinematic techniques that create identification between audience and real world characters – and through collision and counterpoint of spoken word, filmic images, real world sounds and text that creates a multi-sensory time-based narrative allowing viewers to experience the world anew.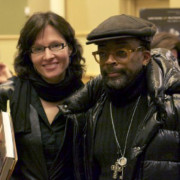 Seidel also produced more than a dozen university visiting filmmaker events for Spike Lee, Academy Award winner Ross Kauffman, Academy Award nominee Marshall Curry, Sam Pollard, Pamela Yates, Jenny Livingston, Fabien Cousteau, National Geographic producer Peter Schnall, and executive director of NOVA Paula Apsell. Seidel also worked closely with Professor Rich Lutz to secure the Al Giddings underwater cinematography library for Rutgers as Seidel had been Giddings' co-producer on the two hour Discovery Channel special "Forbidden Depths." Her work has brought significant positive visibility to Mason Gross School and to Rutgers University.
Prior to becoming a university professor in 2007, Seidel worked on films for National Geographic, Discovery Channel, Channel 13/WNET, HBO, ABC, The Learning Channel, WGBH Boston and Turner Broadcasting. She is the recipient of a New York Emmy for Outstanding Editing and a New York Festivals Award for Best Editing. The two hour Discovery Channel special, Carrier: Fortress at Sea, edited by Seidel won the 1995 Emmy for Best Documentary in the category of Outstanding Cultural Programming. Seidel was the co-producer, editor and writer of the two-hour Discovery Channel special, Forbidden Depths.
As of March 2016, Dena is the director (US and Pacific regions) for Okeanos-Foundation for the Sea devoted to the development, funding and implementation of projects that inspire and initiate positive change for people and the environment. Okeanos' most significant projects to date include support for fossil fuel free inter-island transportation in the South Pacific as well as production of documentary films with strong environmental messages such as Racing Extinction and Our Blue Canoe.
Seidel is also a published fiction writer. Her short story "Good Times" was published in the Hudson Review Anthology Writes of Passage 2008 along with a story by Tennessee Williams.
---
Rutgers Board of Governors approved Bachelors of Fine Arts in Digital Filmmaking program proposal, May, 2014
"The pedagogy interweaves documentary and fiction with emerging film technologies and platforms, while also providing students with a wide array of professional, marketable skills in the emerging field of digital communication. These skills are put to the test in professional production opportunities afforded through the Rutgers Film Bureau. The program is directed by Dena Seidel who also supervises the Rutgers Film Bureau and teaches Advanced Documentary classes."
Approved by the Faculty of Mason Gross School of the Arts and Dean George B. Stauffer, Chancellor of Rutgers–New Brunswick and Executive Vice President for Academic Affairs Richard L. Edwards, and University President Robert L. Barchi and the New Jersey Presidents' Council.
VIEW FULL PROPOSAL >>>HERE
VIEW BOARD OF GOVENORS RESOLUTION >>>HERE